The University of Brighton has joined forces with the Sustainable Travel and Tourism Agenda Kenya to support small and medium-sized businesses hit by the pandemic.
With tourism badly hit by coronavirus, the project aims to help small and medium enterprises (SMEs) reignite the sector in a sustainable way, with research taking place to assess best practices while COVID-19 continues to have an impact. Businesses will be offered support through webinars and peer-to-peer mentorship and coaching.
The initiative will initially target SMEs in Kenya, where Sustainable Travel and Tourism Agenda (STTA) is based, before scaling up to the rest of Africa, with the university supporting in the delivery of the activities.
Born out of a shared commitment to sustainable and responsible tourism development in Africa, the university's involvement is made up of the Responsible Futures Agenda, led by Professor Marina Novelli, the Centre for Change, Entrepreneurship and Innovation Management (CENTRIM), led by Dr George Tsekouras and sustainable tourism expert Adam Jones.
Since the pandemic brought the industry to a standstill, nations, global tourism agencies, academia, destination markets and businesses have been working together to try and frame this crisis, analyse its impacts and forecast what the 'new normal' will be for tourism, whilst acknowledging that the sector is likely to be much different to how it was before the outbreak.
Professor Novelli said: "At the University of Brighton, we are delighted to partner with STTA in addressing the challenges posed by the COVID-19 pandemic on the tourism sector and particularly on the SMEs of Kenya. This is undoubtedly the consolidation of a long-lasting professional collaboration, which started with research conducted in Masai Mara, Kenya in 2011.
"Based on our shared commitment towards sustainable tourism in Africa, we believe that this historical moment is giving us the opportunity to reflect, reset and change for the better.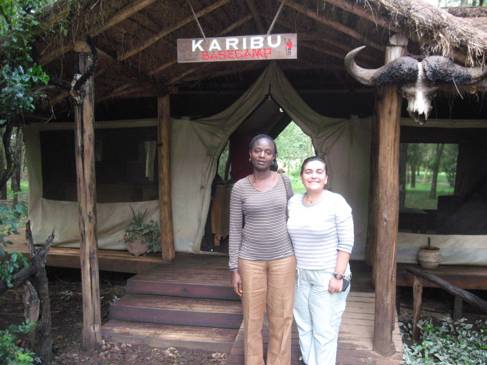 Left to Right: Judy Kepher Gona and Professor Marina Novelli
"For many years, both STTA and the University of Brighton have been advocating for a more sustainable sector and this initiative will give us the opportunity to strengthen our actions though an empirically grounded, proactive and responsible set of activities and pilot innovative ways to move in the right direction in Kenya and in other parts of the African continent in the future."
Judy Kepher Gona from STTA added: "Our mission is to contribute to modelling a sustainable future for Africa's tourism. Our approach to addressing this very challenging mission has been to create diverse spaces of engagement with different interest and stakeholder groups in tourism.
"This partnership with University of Brighton is timely, as it strengthens our work with SMEs, a group that is most vulnerable during crisis, but often faceless in tourism economic data and planning. In line with our shared value of "leaving no one behind, this partnership will lay a foundation for resetting the place of SMEs in the tourism value chain."
Content retrieved from: https://www.brighton.ac.uk/news/2020/kickstarting-tourism-in-kenya-after-covid-19.