Mark Brill, a Senior Lecturer in Creative Advertising from the University for the Creative Arts (UCA) has helped to launch an initiative to help alleviate isolation for care home residents
At UCA, Mark had previously worked on research into the impact of music and technology for those living with dementia, called Memory Tracks. His experience meant that he was aware of the challenges that care homes face. He explained: "in the current crisis, isolation and loneliness pose a significant challenge for adults living in care homes, and it affects both their mental and physical well-being.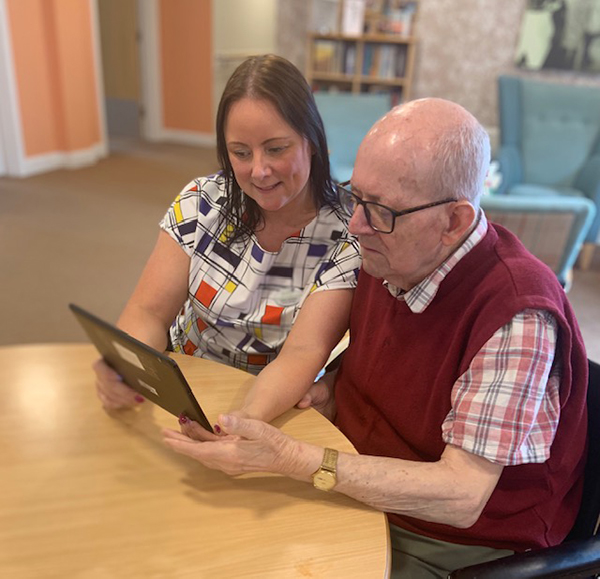 Crown Care Home
"Typically, family members will visit relatives most days, but with social distancing guidelines now in place, these vulnerable people are unable to see their loved ones. So, we have been able to reduce that isolation by sending video calling Android devices to care homes".
The tablets are pre-loaded with Zoom, Hangout and Skype – free online programmes that provide video calls and voice calls between tablets, computers or mobile phone devices. The team have also provided technical support to those who need it.
So far, they have been able to send nearly 80 devices to care homes, including some donated Android tablets from technology provider Huawei.
Crown Care Home
Mark added 'the response was immediate– care homes have few additional resources so the ability to see and speak to families was described as "a godsend" by the staff'.
Mark and the team are keen to provide video calling to as many care homes as possible and have set up a Crowdfunder campaign to purchase more, as well as some finance to purchase devices at cost. They also need help with funds to package up the tablets and send them out to care homes.
"Keeping in contact with families is a fundamental need, not just now but for the future," said Mark. "We can see that this initiative has already had a powerful impact, so we'd like to keep more care home residents as connected as possible."
Find out more by visiting the Crowdfunder page.
Content retrieved from: https://www.uca.ac.uk/news/lecturer-tackles-care-home-isolation/.